Welcome!
Whether you need to advertise your name to prospective clients or provide corporate apparel for employees, we have the ideas and industry experience to make it happen.

At

Corbitt & Company

we believe the foundation for successful promotions starts with quality products and excellent service. We pride ourselves on attention to detail and listening to our customer's objectives.

Anyone can sell you a product with your name or logo on it. Our goal is to establish a long-term relationship with each customer and help them achieve creative and effective promotional strategies. If you are looking for a great way to increase sales and enhance your company's image, call us today and let us help you put your plan into action.
Featured Item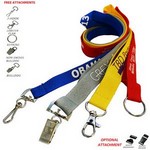 Lanyards 3/4" Polyester custom prin...
Polyester lanyards offer a near perfect balance of high performance product and a great low price. These are our most popular style of customized lanyards. Starting with top-quality polyester material...
$0.76 - $1.52